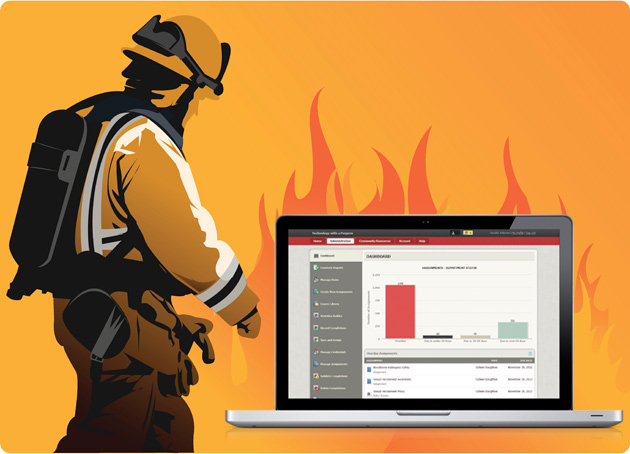 Editor's Note: This is the fourth tip from TargetSolutions' special report, "Eight Great Tips for Training Your Crew," a best practices guide. To view the entire report, please click here.
Training in the fire service has never been more challenging than today. Budgets continue to shrink and requirements continue to increase. It makes sense training administrators would look to technology for help. That's why online training and recordkeeping software is making such a huge impact on the industry.
By delivering accredited EMS continuing education through a learning management system, departments are able to efficiently meet mandatory training requirements with 24/7 convenience. Online tools make it easier than ever to streamline compliance and
track results. A recent survey of more than 600 fire departments by the marketing firm MillerPierce found that
76 percent of departments
are either already using an online training system, or are considering acquiring one. It's clear, affordable online training tools can help departments operate more effectively.
That being said, balance is critical to an effective training program. Training administrators will always need to deliver live training sessions in combination with online training to ensure students receive the appropriate blend of hands-on experience. Using TargetSolutions to achieve and track training compliance makes all the sense in the world. But it's not meant to replace the real thing.
If your department is still considering the merits of online training, here are three benefits of TargetSolutions' internet-based fire department training system to consider:
Achieve Compliance with Fire and EMS Recertification Requirements: 
TargetSolutions features more than
250 hours of Fire and EMS recertification training
. If you are looking to meet federal, state or local training requirements, TargetSolutions' has accredited content you need.
Save Time and Money with Convenient Training That Can Be Taken Anytime, Anywhere: TargetSolutions' online training management system is accessible 24/7 anywhere you have an Internet connection. Users can complete assignments on their own schedules at their own computers.
Improve Performance by Assigning Pre-Training Before Hands-On Exercises: 
TargetSolutions provides departments the ability to '
flip the classroom
' by delivering didactic course information before personnel jump into hands-on training. When members arrive for hands-on instruction, they are prepared with background information.
Don't Just Take Our Word for It: Please Click Here to Hear and Read What Fire Department Leaders Are Saying about TargetSolutions!