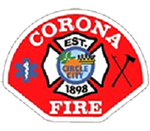 The Corona Fire Department (CA) has been serving the citizens of Corona since 1898. The department's mission of serving our city with pride, integrity, and professionalism while protecting and enhancing the quality of life for the citizens of Corona, has never wavered.
Corona has seven stations and 100 members serving a population of more than 153,000 residents over 39.2 square miles. The department is headed by Fire Chief John Medina, while Captain Jeremy Verderber makes certain the staff is properly certified and prepared to serve at a moment's notice.
But ensuring everyone within a department is up to date with all of their training can be complicated and difficult. The muddled process of having to attain written signatures from each individual at all seven stations where they took a course, read a document, or watched a video was unsustainable for Corona. The absence of a comprehensive training management tool was preventing the department from reaching its maximum efficiency.
Maintaining Accreditations and Compliance
In 2009, with the arrival of TargetSolutions, everything changed for the department. Coronas most challenging training issues – mainly achieving accreditation and tracking records – were quickly eliminated.
"For the mandated stuff and compliance issues, TargetSolutions is actually great," Verderber said. "The first thing is that it satisfies minimum mandatory training requirements in certain subjects, provides all the EMS continuing education units that you would need, and allows you to add your own personal content and distribute it with the push of a button and get accurate reporting back on who has completed it."
"The powerful Activities Builder tool inside the platform is a huge benefit," Verderber said.
"We utilize it to send SOGs, he said. We can create a new SOG and then send it out as an activity. They review the new SOG and check the box to submit it. It makes it really easy for captains to disseminate the information. In 10 minutes it can be sent out to the entire department. Thirty days later, we can spend another 10 minutes to run a report. Department captains don't have to worry about it, as opposed to e-mailing a hard copy and telling everyone to sign here."
Custom Fire and EMS Training Program
With Activities Builder, TargetSolutions makes it easy for everyone in the department to watch relevant videos.
"We can have all the crews watch it," Verderber said. "We load it, send it out as an activity, say watch this video, and now it's on there and anyone can pull it up and watch it."
The overall functionality of TargetSolutions has improved compliance by giving Corona the ability to easily run reports that provide detailed information on who has done what.
"Before, we would send out a document through e-mail and tell everybody to take a look at it, but we didn't know if they were reading it or not," Verderber said. "Now, there is a box to check, which gives me the comfort to know they looked at it."
For more client testimonials, please explore our Success Stories. 
About Vector Solutions
Vector Solutions, a leader in eLearning and performance support, provides award-winning SaaS solutions for public safety, the architecture, engineering, construction (AEC), industrial, facilities management, IT and education industries. Its brand, TargetSolutions, delivers continuing education (CE), training, technology and performance management solutions using the latest innovations in learning and technology to create safer, more capable, more compliant organizations. Its extensive online and mobile learning library offers over 9,000 courses written by over 280 subject matter experts and reaches more than 10 million professionals worldwide. The company was founded in 1999 and is headquartered in Tampa, Florida. For more information, visit www.vectorsolutions.com. Follow us on twitter @VectorPerform and on Facebook at: www.facebook.com/VectorPerformance.