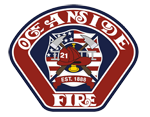 Stuart Sprung thought he would be a firefighter forever. After working as a firefighter for 17 years for the San Francisco Fire Department, his career came to a sudden conclusion when he suffered a spinal cord injury in a work-related accident.
Because of his injuries, Sprung is no longer able to perform his old duties. But he's still able to help other firefighters. Since 2006 he has served as the fire training specialist for the Oceanside Fire Department.
"I'm here for the guys," said Sprung, who recently conducted a Q&A with TargetSolutions' marketing department. "I'm here to make sure they get the training they need."
Oceanside looks to TargetSolutions for answers to its training needs. Sprung has seen the company's platform come a long way since signing up in 2008. He continues to be a huge proponent of the technology, but not because it's shiny or cool, but because it's effective and helps his firefighters complete their mission.
"The whole reason we are here is so guys can get training in the most efficient way possible," Sprung said. "The guys are out running calls, so we have to try and make their lives easier. TargetSolutions makes everyone in our department's life easier."
Here is a transcript of the complete conversation on how Oceanside is benefiting from TargetSolutions online training and records management system:
Question: Please talk a little bit about how TargetSolutions helps your department?
Sprung: We have to get training out. We have to make sure it's complied with, we have to have a way to make sure it's getting done, and we have to keep records for it. If people miss training, how do we get that fixed? We lost people in this office, and we had to find a tool to still do what we are required by law to do. Just because were short on staff doesn't lessen our legal obligation to fulfill our training requirements. If our doors are open for business, we have to provide the training; we have to figure out a way to get it done with what we have. TargetSolutions is key for us accomplishing that. It gave us the ability to be able to do all the things we are required to do. TargetSolutions has become an invaluable tool for us.
Question: How has the platform progressed since you started?
Sprung: When TargetSolutions first came out, and we started using it, it didn't have the ability do everything it does now. It was probably at 25 percent of how it's functioning now. It was really kind of a CE provider. The management aspect of it was in its infancy. But over time, it has become something we use extensively. Before TargetSolutions, training and recordkeeping was very cumbersome. We knew that for the firefighters to use TargetSolutions, it had to be easy or they wouldn't use it. With TargetSolutions guys can now enter a full day's worth of training reports in less than five minutes and that data is captured. Our guys have logged thousands more training hours than ever before ever since we implemented TargetSolutions.
Question: You guys experienced budget cuts. Can you talk about how TargetSolutions helped your department make it through that?
Sprung: Over the last five years, we've seen our training staff cut in half. TargetSolutions has not only picked up the slack, but improved our recordkeeping from our inception all the way to now. There has never been recordkeeping as thorough and accurate as we have right now with TargetSolutions. All of our training is tracked on TargetSolutions. When those guys do hose evolutions this month on their own, it's on them to enter training after completing the drill. It's all tracked on TargetSolutions.
Question: What applications have helped your department the most?
Sprung: The first is Custom Activities, which we have built to allow companies to log training very simply it takes them seconds to do it with TargetSolutions. The second is the Credentials tracker. We have the unfortunate role of being the certification police for all things that are required. We learned the hard way that is something we have to take seriously. We can't have any flexibility on that. People cannot work with an expired paramedic license or expired driver's license. We have to have eyes on the certificates of 100 people, 24 hours a day, seven days a week. TargetSolutions has really helped with that.
Question: Have you ever done a cost-benefit analysis to see just how much money you are saving with TargetSolutions?
Sprung: We've never done a cost-benefit analysis. … But it is worth every penny. The best way I can put it, is that it's the best money a department can spend per training hour logged.
About TargetSolutions
TargetSolutions is the leading provider of web-based technology solutions for fire and EMS departments. These solutions enable departments to maintain compliance, reduce losses, deliver curriculum, and track all station-level tasks, certifications and training activities.