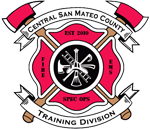 A few blocks down the street from the hustle and bustle of the annual Firehouse World conference in San Diego, a room full of TargetSolutions' clients attended a special user group on Wednesday (Feb. 19). The room was filled with platform managers looking to learn more about the online fire training system's tools for managing fire department training.
Three of the attendees were honored during the annual awards portion of the event for their extraordinary contributions to TargetSolutions. Chuck Montgomery of Glendale Fire Department (Ariz.), Jay Sumerlin of West Pierce Fire & Rescue (Wash.), and Charles Truvillion of Kern County Fire Department (Calif.) each received an award for their various efforts.
The Helping Hand Award
Montgomery was given the Helping Hand Award, which goes to an individual who goes above and beyond to assist TargetSolutions with the improvement of the platform. Montgomery's department has been using TargetSolutions for more than 14 years and is one of the very first clients to implement the system. Over the years, Montgomery pushed hard for the creation of a course that would meet NFPA 1403 standards, which TargetSolutions
released in late 2013
.
The NFPA 1403 Live Fire Training Evolutions course reviews live-burn evolutions and emphasizes the importance of safety with state regulations, NFPA standards, and local policies and procedures established to maintain training effectiveness without compromising safety.
"The award to me is a very nice honor and acknowledgement of my efforts to make the fire world a little bit safer for operations," Montgomery said.
The Technical Achievement Award
Sumerlin, who was one of the special guest presenters during the user group, took home the prestigious Technical Achievement Award for his dedication to building custom content and delivering it with the TargetSolutions platform. During his presentation, Sumerlin spoke about the powerful ways his department is using TargetSolutions to streamline training management and provide personnel with impactful, customized training.
Sumerlin uses various third-party applications,
including Articulate
, to create training presentations that feature voiceovers and photos. His effort to become proficient with the various applications for content creation made him the choice for this award.
"Technology is one of those things that I've always had as a passion – and it is kind of cool to be recognized for that," Sumerlin said. "I really think it's the time right now, in the fire services, to lean toward technology and balance technology with actual hands-on skills.
"We have to reach a younger generation. You have the old school fire service where everything has to be hands-on, and then you have the young people that are very tech-savvy. Being able to hold their attention is a transitional period."
Like Montgomery, Sumerlin spoke about the value he sees in TargetSolutions' online training courses, especially the
NFPA library
. "I really enjoy TargetSolutions' (NFPA) 1001 and 1021 series," he said. "I look forward to seeing TargetSolutions move forward and look at other NFPA (courses), and creating content for the fire service in particular."
The Perseverance Award
Truvillion captured the inaugural Perseverance Award for his department's dedication to fully implementing TargetSolutions' fire department software and overcoming several challenges early on during the process. Today, the department is making great progress utilizing the system, Truvillion said.
"We can deliver (training) within Kern County's 8,000-square miles, 46 stations," he said. "The biggest issue is keeping our engines in their response areas and those kinds of things. And then consistency in our training – (TargetSolutions) just really does it for us. Being able to pull that data, to give those reports to our
JAC program
, or the college. As well as make sure we got everything covered for OSHA and ISO. I mean, it's big."
The User Group Workshop
In addition to the awards, TargetSolutions representatives used the special gathering as an opportunity to show off the online fire training platform's latest enhancements, provide an overview of the EMS continuing education content and EMS recertification tracking tools, answer any questions, and provide tips and tricks for navigating the system.
Also, Jake Pelk of Central San Mateo County Training Division (Calif.) was a special guest presenter who spoke about his department's ability to track controlled substances with TargetSolutions. One of Pelk's goals is to become completely "paperless" and with TargetSolutions they are headed that direction. He also touched on the capabilities of
Community Resources
and the ability to utilize e-signatures for recordkeeping purposes.
"It was great to have so many different departments this year," said TargetSolutions Account Manager Kegan Konrady. "I think the diverse group made the event more interesting. The conversation about custom content today was great. You see a lot of departments who are using custom content with TargetSolutions. When Jay Sumerlin went up and did his presentation on his hazard training, I could tell he opened a lot of eyes. As did Jake talking about controlled substances.
"I think the more you can get departments pushing custom content with TargetSoutions, the better. People are more likely to stay engaged when they see a copy of something they know or a person in the video from their department. That's a great tool for training."
About TargetSolutions
TargetSolutions delivers cutting-edge software applications, engaging online training courses, and world-class customer service. The company was founded in 1999 and today there are more than 2,000 organizations across the country using TargetSolutions' innovative technology to solve their training challenges.