TargetSolutions' ISO Training Tracker simplifies the tracking and reporting of ISO training hours.
TargetSolutions' fire department ISO Training Tracker is helping fire departments all across the country prepare for their next ISO audit by the Insurance Services Office (ISO). But this powerful tool originated in Florida and many of the state's departments are benefiting.
Tim Riley of the Dunedin Fire Department and the Pinellas County Training Group was instrumental in the creation of the application that helps simplify ISO reporting.
"We're extremely grateful to Tim and the Pinellas County Training Group for giving us great insight and helping us create a robust application," said TargetSolutions Director of Technology Alex Day. "Our platform wouldn't be what it is today if not for feedback from clients like Tim Riley. Our ISO Training Tracker helps departments automatically accumulate the proper documentation for their next ISO audit. It makes the entire process easier."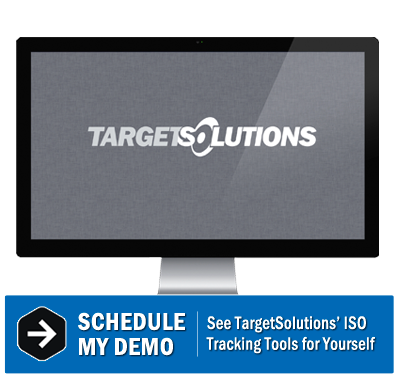 Riley was like most other training chiefs who have suffered multiple headaches preparing for a fire department ISO audit. The simple fact is that if records are not collected properly, departments will not receive Class 1 status from the ISO. But TargetSolutions offers a better way.
TargetSolutions provides access to customizable ISO tracking templates created with the help of Riley. After training officers have delivered these activities to employees, they can rest confidently knowing the industry's leading records management system will automatically track completions and generate detailed reports, eliminating the hassle of searching through endless paper stacks and spreadsheets.
"This has really streamlined the process for ISO inspections," Riley said. "In years past, you'd have to take all your records as best you could, pull everything out and pour through everything. But with the Training Tracker you can be proactive instead of reactive. You know the answers before ISO gets there. This keeps you from being blindsided by deficiencies in training records. It is an incredible tool. It really makes people's jobs easier."
Guy Keirn of the Pinellas Park Fire Department experienced similar results with TargetSolutions Training Tracker during his last audit in September of 2010.
"TargetSolutions has created a records system that clearly allowed our organization to comply (with its ISO audit)," Keirn said. "The process of completing the training section of the report for ISO was seamless. We were able to extract all required information and complete a comprehensive report for the ISO inspector."
In addition to powerful tracking tools, TargetSolutions online fire training platform recently underwent a significant facelift. The interface is now more intuitive, according to Ken Treffinger of Sarasota County Fire Department.
"After seeing the new (TargetSolutions) platform, I was immediately impressed by the layout and the look that it presented," Treffinger said. "Actually, I believe my first word after seeing it was wow! The new platform is sleek, professional and appears very user friendly."
About TargetSolutions
TargetSolutions online training and records management system is the most effective way to enhance your departments training program. We are focused on helping organizations reduce costs, improve operational efficiency and maintain compliance. With cutting-edge technology and more than 700 courses in our library, we make training easy.