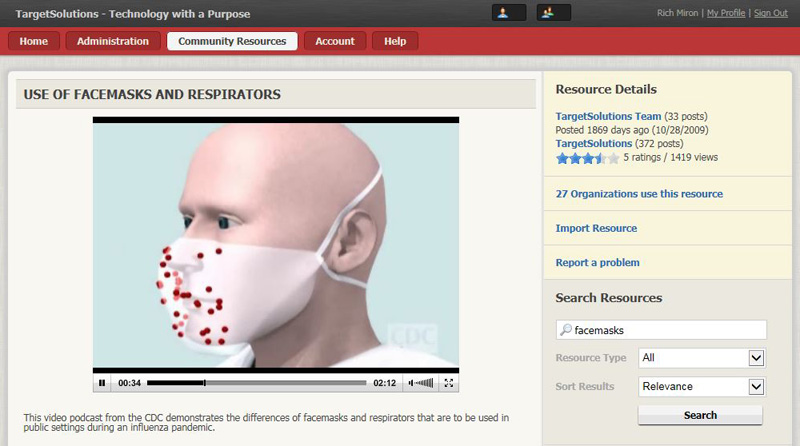 This month's top video inside Community Resources provides valuable training on how to properly utilize facemasks and respirators during influenza season.
With flu season approaching, it is important emergency responders understand how to utilize facemasks and respirators. This month's top video inside Community Resources, "Use of Facemasks and Respirators" created by the Center for Disease Control, provides an overview on facemasks and respirators used in public settings.
This training has already been viewed more than 1,400 times by TargetSolutions' users and is currently being deployed by 27 organizations. The video provides viewers with valuable information on how to properly utilize this equipment.
Eric Kurtz of CAL FIRE Riverside County Fire Department (Calif.) wrote in the video's comments section that it is a "very good overview – short and sweet" and Kirk Kelly of East Joliet Fire Protection in Illinois said "nicely done and to the point!!!"
Running two minutes and 12 seconds, the CDC video includes information related to N95 respirators.
If you would like to view this video, or other valuable resources, please log in to your organization's site and search "Facemasks" or "Respirators" under the Community Resources tab.  And if you have any questions, please contact us at (800) 840-8048.