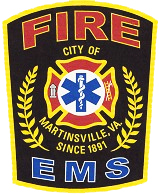 Martinsville Fire & EMS
is responsible for protecting the Virginia city's 13,000-plus residents. But that responsibility doesn't stop with emergency services 
–
 it also protects taxpayers.
The department recently completed a Public Protection Classification survey with the Insurance Services Office, which saw Martinsville improve its grade from a Class 04 to Class 03, effective Dec. 1, 2014.
While there are many factors in a department's ISO rating, Deputy Chief Kris Shrader believes the biggest reason for Martinsville's upgrade was the department's comprehensive training records. Shrader says the department has always completed the necessary training, but after
implementing TargetSolutions
in January of 2013, it finally had the tool it needed to document everything accurately.
Shrader recently sat down with TargetSolutions to discuss the new ISO rating and how it impacts the city.
Congratulations on the improved ISO rating! When did the ISO audit take place? 
"The review took place in January of 2014 and it looked at the previous three years. For training, the ISO's focus was on 2013. This was our first review under the new ISO grading scale. Our last review was in 2007, I believe. I was a captain at the time, so this was my first time going through and really being involved in the process." 
Please talk a little bit about your experience. How do you think you wound up with an improved rating?
"I think the new ISO grading schedule is a little bit kinder and gentler. In the past, these types of evaluations would take days, but for us, it only took three hours. I think the fact we were able to produce the training records with TargetSolutions really made a big difference. In years past, all of that data would have needed to be recorded by hand and somebody on the staff would have had to manually calculate everything – like how many hours per person for officer training, how many hours for company training, etc. It would have been miserable, if not for TargetSolutions."
So in your estimation, Martinsville's improved training records were the biggest reason for the improved ISO rating?
"Yes, I think so. From our last audit, we were a strong Class 04 department and we were able to show improvement. We didn't add any trucks, or any staff. I think the improvement was a result of our training records, enough to push us over the edge and earn class 03 status."
Besides TargetSolutions, there isn't anything else that might have improved your ISO rating?
"No, not really. We were a class 04 department and now we are a class 03 and besides the new grading scale, the only thing that really changed was adding TargetSolutions to track training."
You became a client in January of 2013, one year before your ISO review. Did you find it difficult to implement TargetSolutions so quickly before your review?
"We implemented TargetSolutions right away and it was easy. We just had to train our staff on how to enter training. It was actually pretty painless."
Was tracking ISO the reason you chose TargetSolutions as your online training management software?
"It was definitely a contributing factor, but I wouldn't say it was the biggest reason. We were just looking for a better way to track everything and we knew it would benefit our ISO score, too. We mainly just wanted a better way to manage records. When the person from ISO came and sat in my office and asked for my records, it only took three or four clicks on the keyboard and two minutes later I had the report in my hand. I was able to give them exactly what they needed for company training, officer training, and everything else."
What does this improved rating mean for insurance rates in the city of Martinsville?
"For residential home owners, it's not a huge impact. Everything above a Class 05 rating is pretty much graded the same. But for commercial property owners and businesses, they can see a reduction in their insurance rates. We put out a press release to let people know they can notify their insurance carrier to let them know the rating has been improved. I think local businesses can take advantage of this."
It sounds like you credit a great deal of this to TargetSolutions. Is this a product you would recommend to other departments looking to improve their ISO rating?
"I would definitely recommend TargetSolutions for tracking ISO, without a doubt. It's the simplest way to manage records. If you are doing what you are supposed to be doing, your ISO rating will take care of itself. But TargetSolutions makes tracking it all so much easier. The platform is outstanding."
Has your department recently undergone an ISO review? Did TargetSolutions help your department achieve a better ISO score? Contact us today through e-mail and we'll be in touch to feature you and your department in our next Department Spotlight.