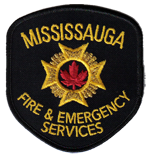 Mississauga Fire and Emergency Services was originally established in 1974. To this day, it carries the same mission statement: To protect life, property and the environment in Mississauga from all perils, through education, prevention, investigation, training, rescue, fire suppression, dangerous goods containment and life support services.
The department's responsibilities include serving more than 740,000 citizens spread across 288-square kilometers. With a team of 616 members across 20 stations, the department responds to more than 25,000 calls per year.
In order to properly protect the community, Mississauga must be well-trained and well-prepared for duty every day. The department implemented TargetSolutions in October of 2006 to help remain organized, efficient and compliant. To that effect, the industry's leading online training and records management system has complemented the department's hands-on training techniques, while replacing a paper-based system for maintaining compliance records.
From the beginning, our main interest was streamlining recordkeeping, said Matheson. The ability to easily produce training reports was our initial need.
Although TargetSolutions is based in the United States, its platform's capabilities stretch beyond its borders. That's why Global Risk Innovations works to bring the powerful training management tools to departments like Mississauga in the Canadian market. Division Chief Shawn Matheson, who is responsible for all of Mississauga's various training needs, has found value in the platform.
Mississauga has benefited from TargetSolutions' reporting functionality, specifically the ability to create detailed reports of completed training activities. TargetSolutions provides innovative tools that allow departments like Mississauga to consistently distribute training material. The department is even able to take real-life incidents and turn them into online courses.
"We recently responded to a house fire that had a lot of different outcomes as far as lessons learned for our staff. We were able to take pictures and information from that incident and turn it into a custom activity course by importing a PowerPoint slideshow onto TargetSolutions."

Shawn Matheson, Division Chief
Matheson also mentioned the department's use of custom tests to enhance the learning experience for personnel. Custom tests provide an excellent way to ensure that the employee adequately understands the course material and is proficient in that particular area.
"We are able to create various forms of learning and then back up the material with a quiz," Matheson said. "The custom activities that we create on the TargetSolutions platform become part of our annual training curriculum. We have a certain amount of training that we expect from our firefighters on a continuing education basis and a large portion of that is going out on the TargetSolutions system."
About TargetSolutions
TargetSolutions is the leading provider of web-based technology solutions for fire and EMS organizations. These solutions enable organizations to maintain compliance, reduce losses, deliver curriculum, and track all station-level tasks, certifications and training activities.