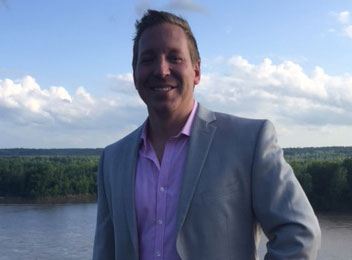 Kegan Konrady is a Missouri native and is pictured here on the Missouri River. When not in his home state, Konrady is perfectly comfortable in San Diego where he serves as an account manager with  TargetSolutions.
As an account manager serving California, Nevada and Hawaii, Kegan Konrady is one of the busiest employees here at TargetSolutions. This June, he will reach his three-year anniversary since joining the team and leaving his previous position as an operations manager.
A Missouri native, Konrady went to school at Pittsburg State in Kansas, but is now very much at home in San Diego's coastal suburb Pacific Beach.
"Living in P.B. encourages me to take advantage of the great outdoors," Konrady said. "There are bay-side and ocean-side beaches in my neighborhood and both are great for different types of water sports. Also, it is a great walking neighborhood with lots of restaurants, shopping, and nightlife close by."
Here is more about Kegan from a recent Q-and-A:
Do you have any children?
None currently. Hope to someday!
What are your favorite hobbies?
I'm a huge sports fan … Go Chiefs, Royals and Jayhawks! My hobbies include anything active, especially if it is outdoors. I love to go to the gym, swim in the ocean, paddle board, snowboard, play volleyball, and hike the beautiful mountains of San Diego. There are several great ones to hike near our office.
Who do you admire most and why?
My father. He was a self-made man in every sense of the word. He put his family first and was a great role model.
What is your favorite movie and why?
The Departed. I love a gangster movie with a good and different plot.
What was the first concert you ever attended?
Tone Loc.
What do you enjoy most about your job?
The ability to have a meaningful impact on the operations of the fire departments we serve. Amazing what a help we can provide, in not only helping them get organized and hit certain compliance check boxes for their training program, but how we can completely change the way they do business, for the better!