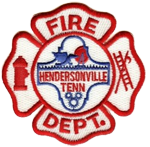 The Hendersonville Fire Department in Tennessee has been dedicated to its citizens since its inception as a volunteer fire service in 1970. A few years later, Hendersonville became a full-time paid department, equipped to accomplish its mission of protecting lives and property within our community.
With a team of 100 people spread across six stations, Hendersonville responds to more than 4,500 calls per year. In order to meet that challenge, the department works hard to improve in all areas of the profession. But without a full-time training officer, managing training requirements had become difficult for the department. And the issue was only magnified when training needed to be reported for ISO compliance.
"Not everybody knew exactly what counted for ISO or what type of training they should be doing," said the department's Fire Inspector Nate Renzella. "It was like closing your eyes, throwing darts at a dartboard, and hoping you met the requirements."
With a clear need, Renzella decided to research and evaluate the effectiveness of the TargetSolutions platform.
"I thought it might tank," said Renzella, who studied TargetSolutions as part of his final research project toward obtaining a Master's Degree from Oklahoma State University. "I didn't think guys would be comfortable getting some of their training done on the computer; but it's been just the opposite. I've been pleasantly surprised."
With TargetSolutions' ISO Training Tracker, every member of the department is able see what required assignments need to be completed in order to fulfill ISO standards. And the best part is training officers can easily generate comprehensive reports that have been built specifically for ISO reporting purposes.
"With TargetSolutions, we're able to show auditors what we're doing," said Renzella. "I can pull a report on anything within the system and demonstrate its effectiveness and efficiency."
Hendersonville is looking forward to satisfying its ISO requirements in such an economically effective manner. Rather than having to pay thousands of dollars to attend expensive training conferences, the department's personnel are able to substitute online courses for certain training material.
"This is a very cost-effective program to get our staff a great deal of training and also meet training needs," said Renzella, who was pleasantly surprised by his department's usage of the program.
In fact, Renzella's skepticism against TargetSolutions and online training, in general has been completely altered, he said.
"If you were thinking about implementing TargetSolutions in your department, but are unsure whether your staff will use it, we've found that they will and it works a lot better than you might think," said Renzella. "It's something new. It's different. It engages people. TargetSolutions is not what you're used to, but in a good way."
About TargetSolutions
TargetSolutions is the leading provider of web-based technology solutions for fire and EMS organizations. These solutions enable organizations to maintain compliance, reduce losses, deliver curriculum, and track all station-level tasks, certifications and training activities.