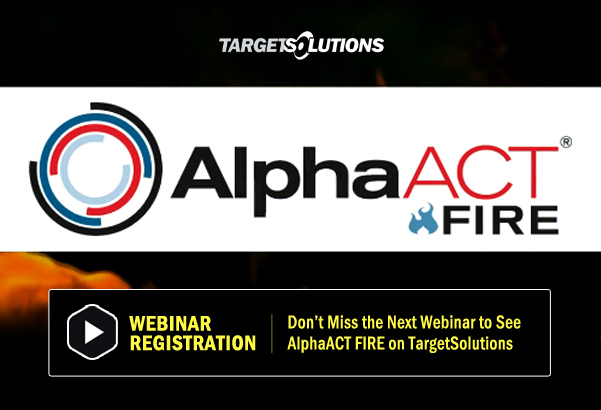 Attend a free webinar to learn more about AlphaACT® FIRE's Scenario Builder. Webinars are scheduled for 9 a.m. (PDT) every Wednesday.
Want to use your fire department's own post-incident reports to create scenario-based training courses? TargetSolutions has partnered with AlphaACT® FIRE to make that possible with the industry's leading online training management system.
AlphaACT's Scenario Builder is an online interview process for the development of custom training courses that can be delivered through the TargetSolutions platform.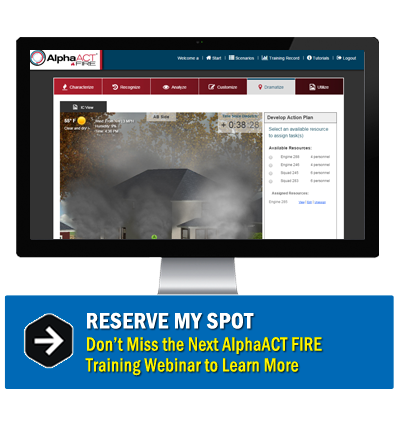 The Scenario Builder enables platform managers to input information into the system's easy-to-use interface to create scenario-based training. All platform managers need to do is follow a simple step-by-step process through the Scenario Builder to create training content and have it automatically deploy into their department's training library.
Here are some of the features of AlphaACT's Scenario Builder:
Intelligent interview wizard for streamlining the interview process
Automatic progress saving so you never lose your work
Uploading of standard media types for simulation training
Scenario sharing with other members of the fire community
Customized learning objectives for your department
Build up to four scenarios each month with this technology
Whether custom made with the Scenario Builder or picked from AlphaACT® FIRE's impressive library of pre-built training, these dynamic scenario-based courses are available through TargetSolutions and meant to help fireground incident commanders improve their decision-making skills.
If you're interested in learning more about the Scenario Builder, please attend one of AlphaACT® FIRE's upcoming webinars. If you have any questions about pricing for using this technology with the TargetSolutions system, please contact us at (800) 840-8046.